The gravitron is an intense ride added in v29.
Information
The ride is completely enclosed, with panels lining the inside wall. Riders lean against the panels while the ride spins.
Default Ratings:
Excitement: 5.00

Intensity: 5.50

Nausea: 5.00

Color Parameters
Vehicle colors:
Primary veh. color: Cart body color
Secondary veh. color: Panel color
Colors:
Supports color: Supports color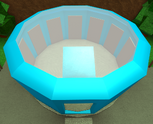 Ad blocker interference detected!
Wikia is a free-to-use site that makes money from advertising. We have a modified experience for viewers using ad blockers

Wikia is not accessible if you've made further modifications. Remove the custom ad blocker rule(s) and the page will load as expected.