The Innovation Tycoon Event was a Roblox event that involved three tycoon games on Roblox (Theme Park Tycoon 2, Retail Tycoon, and Miner's Haven) and lasted from March 13, 2017 to March 21, 2017. The official page may be found here.
Information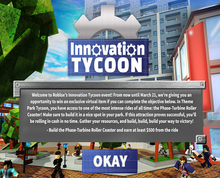 The event was introduced to Theme Park Tycoon 2 in v100 and removed in v105. It added an objective which could be completed by earning $500 from the Phase-turbine roller coaster. After completing the objective, the player had to talk to an NPC which was located in a cave across from their park entrance. Completing the objective awarded the player an Experimental Jetpack for their Roblox avatar.
Ad blocker interference detected!
Wikia is a free-to-use site that makes money from advertising. We have a modified experience for viewers using ad blockers

Wikia is not accessible if you've made further modifications. Remove the custom ad blocker rule(s) and the page will load as expected.