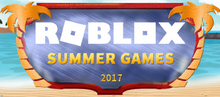 The Summer Games 2017 Event was a Roblox event that involved three games on Roblox (Theme Park Tycoon 2, Icebreaker!, and DODGEBALL!) and lasted from June 27, 2017 to July 10, 2017. The official page may be found here.
Information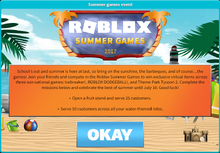 The event was introduced to Theme Park Tycoon 2 in v127 and removed in v130. It added two objectives which could be completed for virtual rewards. The first objective was to serve 25 customers at the refreshing fruits stall. The second objective was to build a pond and have at least 30 visitors use water rides. Completing the objectives awarded the player Sunphones and a Roblox Surfboard for their Roblox avatar.
Ad blocker interference detected!
Wikia is a free-to-use site that makes money from advertising. We have a modified experience for viewers using ad blockers

Wikia is not accessible if you've made further modifications. Remove the custom ad blocker rule(s) and the page will load as expected.